1. It is recommended that you reseal your knots each time you wash your wig, this will help to prevent the hair shedding.
2. When washing it, you must gradually wet the hair down and brush it gently before you completely wash the hair. If the hair is very dry and a lot of water is added at once, it will swell up like sponge and tangle!
3. Do not brush or comb any curly or wavy hair wigs as it will cause it to tangle and knot.
4. Please do not color, perm, or do any extra chemical processes because it has already been treated
5. Make sure you brush the hair often and apply some leave-in conditioners to make the hair soft and moist.
Human Hair Wigs Require Special Care
Human Hair wigs are the premier choice if you want versatility and luxury. Human hair is
soft to the touch and can be styled endless ways. Due to the high demand of quality human
hair, human hair wigs are also the most expensive type of wig you can buy. This is why it
is so important to use the right products and the proper techniques to care for your
human hair wigs. Wigs made with human hair can last a long time, much longer than
synthetic wigs. However, using the wrong care products or washing techniques can
drastically reduce the life expectancy of your human hair wig.
The Secret to Beautiful Human Hair
All human hair wigs are chemically processed to achieve the most natural look and feel and different
color variations. For this reason, it is very important to use sulfate free care products specifically made
for chemically processed hair to keep your human hair wig looking beautiful, longer.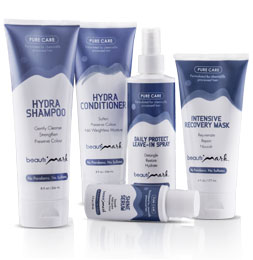 The Wig Experts Recommend
BeautiMark Pure Care System For Human Hair Wigs
The BeautiMark Pure Care System is our choice when it comes to caring and styling human hair and
specifically addresses the needs of chemically processed human hair.